AKA pics 361
Today was a productive day even though I was the only one in the house that was bathed and ready before noon. Let me tell ya folks, we take our weekends
seriously
in this household. I wanted the front yard edged/weedwhacked today so I asked the hubby to take care of that for me (the dang grass had over grown the drive way, I swear I hate burmuda) which he obligingly did. I was out there with him and planted a few of those things from the pot ghetto and before I knew it he was coming around with the lawn mower after finishing with the edging. I was so impressed with him, normally I'm the one doing both these jobs and it hadn't been done since early 2008, no lie.
We then went grocery shopping, the hubby wanted to make hummus from scratch, really! He makes the best salsa (pico really) on the plant (not bad for an irishman eh?) and I was anxious to see how his hummus would turn out. I, of course, pointed him in the direction of the place where I find many of my recipes (don't think I'm not buying her cook book when it comes out in the fall) and he was totally on it.
P Dub's classic hummus
is now in the act of being formed in my kitchen, by my hubby. I love it when he's doing the cooking, mostly because I don't have to move from the couch. He doesn't know how to cook all that much but I did figure out that he can follow a recipe perfectly and I can even send him vague directions by email and have it turn out right. As he continues on trying and using recipes he's able to branch out and try different things in the recipes that he thinks will taste good. He's good, it normally works. Oh and did I mention he follows recipes? Like the one on the back of the Nestle's semi-sweet morsels bag? If I feel the need for chocolate chip cookies all I have to do is ask, it's real nice.
It's taking a bit longer than I would have thought since he got side tracked and decided to follow her
how-to on roasting garlic
. The house smells divine right now, plus he threw in a red bell pepper to roast, then he's going to add that to the hummus, yummmm.
The fully roasted bell pepper (note that my camera does
not
like doing low light photos, going to need to look into how to fix that):
Half of the garbonzo beans (small food processor, had to do it in 2 rounds):
And yes that is an empty thing of store bought hummus he just finished eating in preparation for the good stuff.
The roasted garlic (please note, as much as I love roasted garlic we came to the conclusion that in this recipe it's too mild a taste. We added fresh garlic later):
The tahini (which was a beotch to find in the stores out here, found 1 jar of it in the peanut butter section,
finally
):
And the ground cumin (yes that is a measuring spoon set for the Easy Bake oven my kid owns, they all stay together and don't get lost so it's the best one to use, trust me):
And this is what it looks like ground together:
I told ya'll it was a small food processor.
The roasted bell pepper he chopped with his fav food chopper and then just stirred it in: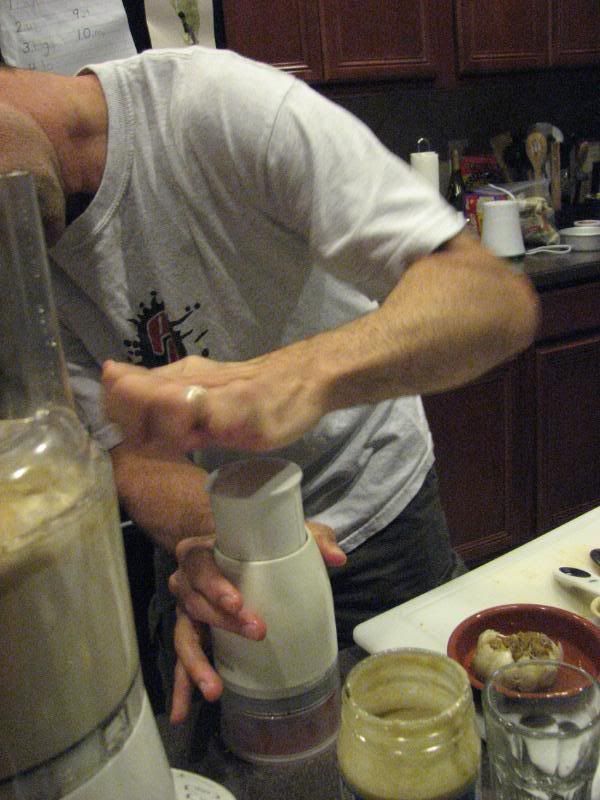 I didn't take pics of the final product, it's a light brown mush in a bowl, totally unexciting.
Notes for the recipe if anyone wants to make it: Don't use roasted garlic unless you don't want a garlic taste at all, use fresh.
Triple (at least) the salt, it really needs salt.
Other things I have learned, lighting, I need to figure out the nuances before doing more indoor pics.